Project
Formal edible & ornamental garden
Sited in inner city Melbourne, this garden showcases the ornamental value of edible plants. Clipped hedges of Chilean guavas define garden beds crowned with specimen trees of pomegranate and persimmon, under-planted with vibrant patches of purple and orange from society garlic flowers, purple-leaved sages, purple sea lavenders and orange perennial wallflowers. A lush background hedge of cumquats produces an enormous harvest, which is transformed into jars of delicious marmalade, and the coastal saltbush provides a foil to the many greens. An existing hibiscus was left for privacy at the front of the house. A simple path of recycled bricks leads to the front door, and Dromana toppings paths intersects this leading into the garden, softening the garden and allowing some permeability for rain.
Seasonal produce
Summer brings artichokes, apples and rose petals, autumn brings persimmons and pomegranates, winter brings cumquats and spring brings an abundance of flowers for vases. Herbs such as lemon thyme are picked for cooking and tea all year round.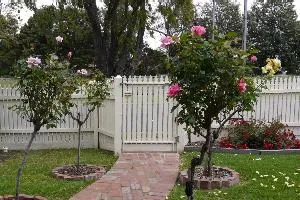 Before
Reminiscent of the 1950's, this garden was tired and in need of an update in keeping with the detailed renovation of this period home. A simple and classical layout was decided upon, but with a modern twist, to include edible and native plants.
Sculptural plants
Globe artichokes are loved in this garden more for their contribution to the studio than the table, as one of the garden owners is an artist, and uses the blooms as subject matter for her painting and photography. The unusual flowers of eryngium and echinops are also appreciated for their striking shapes as well as their vibrant blue colour.
artichoke
Globe artichokes are the ultimate edible ornamental, with strong silver foliage; delicious flower buds, stems and leaf mid-ribs; and stunning flowers if left on the plant and not eaten. Buds need to be picked at just the right stage, as leaving them on the plant too long allows the prickly 'chokes' to develop.  In southern parts of Australia, plants produce buds from spring until summer, when the hotter, dryer weather sends them into dormancy. The whole plant dies down to ground level and reappears in winter when the rains do. Plants often reappear as more than one plant.
Garden visitors
With flowers all year round, this garden is visited regularly by bees, butterflies and birds, and is a source of delight for the owners and also locals, who have enjoyed watching this garden develop. Birdbaths help to attract local birds, such as wattle birds and willy wagtails.